Dr. Tolzmann is a recognized expert in the field of German-American studies.
He is available for lectures and presentations, consultation, and more.
Follow the links to read more about him.
Email Dr. Tolzmann
---
Recent Publications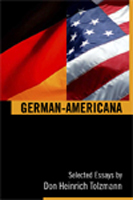 German-Americana, Selected Essays, brings together essays by award-winning author Don Heinrich Tolzmann that explore America's German heritage from the arrival of the first Germans in America in the seventeenth century to the present. According to Jerry Glenn's Foreword, Tolzmann "has little competition for the title 'Mr. German-Americana'," and that this volume "collects thirty-nine diverse essays, some rather general, some more narrowly focused, but most with an emphasis on topics that have broad popular appeal," and "a unifying thread in many of the pieces is a personal touch."
Available from the Little Miami Pub. Co. - Tel.: 513-576-9369, or Email: orders@littlemiamibooks.com).
---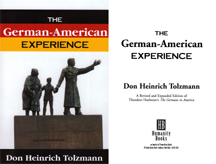 The German-American Experience: A Revised and Expanded Edition of Theodore Huebener's The Germans in America by Don Heinrich Tolzmann. Anyone interested in the German heritage will want to obtain a copy of this outstanding work that traces, outlines, and discusses the history of German immigration, settlement, and influences since the seventeenth century.
Available from Humanity Books: Tel.: 800-421-0351
Praise for the book:
"A masterful work that has become a veritable classic."
Dr. Gert Niers, Associate Editor, German Life
"A valuable book, comprehensive and up-to-date."
Dr. Jerry Glenn, Professor Emeritus of Germanic Languages & Literatures University of Cincinnati
"A wide-ranging work of German-American history by one of its most dedicated scholars."
Dr. Leo Schelbert, Professor Emeritus of History University of Illinois at Chicago
"It thoroughly covers the historical journey of more than a quarter of our people and their many contributions to our great nation...It is recommended reading on the bookshelves of all Americans." Dr. Joe Wendel. German-American Radio, WCPN-FM NPR, Cleveland, Ohio