Articles and Reviews
"Cincinnati's Over-the-Rhine," Germerica.net (10 August 2011)
---
Cincinnati's Over-the-Rhine

Cincinnati's German heritage reaches back to a district known as Over-the-Rhine, where German immigrants first congregated in the 19th century. Historian Don Heinrich Tolzmann, photo, leads us on a tour of the district in his new book Over-the-Rhine: Cincinnati's Historic German District and Environs published by Little Miami Publishing Co.
Here the first Turnverein, or gymnastic society, was founded in 1848 by Forty-Eighters such as Friedrich Hecker who is honored with a monument in Washington Park. German churches line with streets with German inscriptions like "Wahrheit, Tugend, Freiheit," or "Truth, Virtue, Freedom."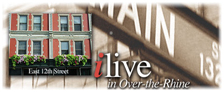 The district was called Over-the-Rhine since it was surrounded by a canal with bridges leading into it and the canal was dubbed "the Rhine." So when you went over the bridge into the German district it was said you were going "Over-the-Rhine."
In the 1920s the canal was covered up and there is now a spacious street there now, Central Parkway. The tour guide describes the many breweries in and around Over-the-Rhine.
Even today there is a major brewery along what was one the Rhine – the Samuel Adams Brewery that belongs to Jim Koch who was born in Cincinnati. And the new Christian Moerlein Brewery will also be opening up in Over-the-Rhine.
The guide not only covers Over-the-Rhine, but also its "environs" which leads you into the areas surrounding the district that show further evidence of the German impact on the landscape of the area.
Anyone planning a trip to Cincinnati to attend one of its many festivals, such as Oktoberfest Zinzinnati, should get hold of this guide and take the time to tour the town"s historic German district.
To order, visit the website of the Little Miami Publishing Co.:  http://www.littlemiamibooks.com

FROM: Germerica.net (10 August 2011)