Articles and Reviews
Book Review: The German Element in the Northeast (Genealogical Publishing Company),
on Germerica.net, "Proud of His Heritage(Gustav Koerner)," 12 August 2010.
---
Proud of his Heritage

To most of us, Gustav Koerner (1809-1896) is not a household word like Friedrich von Steuben or Carl Schurz. But this refugee from the 1832/33 revolution in Germany may well have been one of the most influential Americans of his time. A confidant of President Lincoln, Lieut. Governor of Illinois and U.S. Minister to Spain, he was an ardent anti-slavery proponent. Proud of his heritage, Koerner also wrote extensively about German-Americans in our country. One of his books highlights their impact in America's Northeast. Thanks to historian Dr. Don Heinrich Tolzmann's recent translation, it is now available to a wider audience.

New Book – The German Element in the Northeast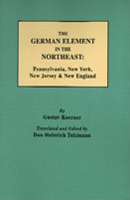 Gustav Koerner's The German Element in the Northeast, translated and edited by Dr. Don Heinrich Tolzmann, has just been published by the Genealogical Publishing Co., Baltimore, Maryland, and provides a wealth of information about German-Americans in the northeastern states of the U.S.
In 1880 Gustav Koerner (1809-96), one-time Lieutenant-Governor of Illinois and confidant of Abraham Lincoln, published a comprehensive history of Germans in America entitled Das deutsche Element in den Vereinigten Staaten von Nordamerika, 1818-48.
For the work at hand, The German Element in the Northeast, Don Heinrich Tolzmann translated and edited selected chapters from Koerner covering the states of Pennsylvania, New York, New Jersey, and New England.
Dr. Tolzmann has added extensive annotations that further explain the text and provide references to additional sources as well.
Disinclined to write a history of German immigration to the United States, Gustav Koerner set about to describe and assess the 19th-century contributions—his coverage substantially exceeded 1848—of Germans to American life and society.
In this context he considers the role of the German language, social life, religion, organizations like the German Society of Pennsylvania, German newspapers and booksellers, Germans in politics, the Pittsburgh [German] Convention of 1837, and so forth—especially in the early chapters' focus on the older Pennsylvania-German community.
For the most part, however—and genealogists are the beneficiaries--the work portrays the German element through the lives of individuals. Accordingly, Koerner offers a wealth of biographical information about people such as: John Jacob Astor, Albert Bierstadt, Karl Follen, Emanuel Leutze, John A. Roebling, and many others.
Even better, researchers will find additional comments concerning Koerner's subjects and their families and careers in Dr. Tolzmann's detailed footnotes to the text itself, making this translation an important addition to the literature of 19th-century German-Americans.
To obtain a copy of The German Element in the Northeast ($25.95), contact the Genealogical Publishing Co. (800-296-6687)
From: Germerica.net (August 12, 2011)