Articles and Reviews
"Author of Numerous Works Speaks on German Immigration, Heritage," by Brandon Drake
Daily Chief Union (Upper Sandusky, Ohio), 10 July 2010.
---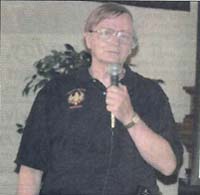 Don Heinrich Tolzmann shared information about German immigration in Ohio and across the United States during a presentation at St. Joseph-Salem Heritage Society on Friday night.
Focusing on immigration movements from the 17th century through post-World War II, Tolzmann, an author and editor of numerous books on German-American history and culture, said the population of German ancestry is the largest ethnic group in the United States.
"We know this because the U.S. Census is taken every 10 years and we know the four largest groups are German, Irish, English and African American," he said. "The German population…makes up about one-fourth of the population in the country. I always point that out because those four groups make up a majority of the population."
"The size of the German immigration was huge in the 19th century, roughly around 25 percent, sometimes as much as 335 percent." He added. "Then again, in the 1950s, it went up to almost 25 percent of the immigrant (that came into the country)."
Germans decided to come to this country for numerous "push factors," Tolzmann said, including revolutions, civil unrest in the German states and wars throughout the 19th century.
But the largest factor, he said, was the disunity between German states at that time.
"Germany was not united until 1870, and if you look back to the 17th century, you'll see it was devastated by a 30-year war," Tolzmann said. "It really devastated the country in a way that's almost hard to imagine today. Probably about one-third of the population perished at the time."
For those who did decide to come to America from Germany, they had to acquire a passport, which provided a lot of information about the passport holder. Tolzmann said these documents are more informative that a picture passport because of the detail description it gives, including the shape of a person's forehead, color of eyebrows, shape of nose, tattoos and if they had teeth.
Tolzmann added that these documents are valuable because of the information they provide.
Those seeking to leave, though, needed to request permission to immigrate from their local authorities, he said. For example, Tolzmann said if a person was a citizen of Prussia and wanted to immigrate and of the military age," chances are you would not be allowed to."
"It wasn't automatic that you would get permission to leave," he said.
During earlier immigration, those coming to America were responsible for bringing their own food for a 30-90 day boat trip, which Tolzmann said depended on weather and wind conditions. He added immigrants were also subjects to illness on the ship because of rats and lice.
"When a disease would break out, it would run though the whole ship," Tolzmann said.
Once arriving in America, immigrants would to get to New York or other port cities and move westward. Tolzmann said the freedoms offered by the United States that were not available in the old country was another "pulling factor" in attracting people in making the move.
"The German-Americans concentrated in a certain region in the United States, which became known as the German Belt," Tolzmann said. "With Pennsylvania in the East..Germans moved basically straight west from this area. They avoided New England because the English were settled there. Also they avoided the southern states because of the existence of slavery."
Tolzmann said Germans immigrated together in groups of people they were familiar with. Through this "chain migration," they would settle down and write to friends and family in their hometown and bring more people to the same place, which he referred to as "chain-link communication."
"As a rule, they always had a point of contact," he said.
As for Ohio, the first important settlement came from Pennsylvania, Tolzmann said.
"Pennsylania Germans were the first large group of Germans to come into Ohio," he said.
Two of the early settlements were Schoenbrunn and Gnadenhutten.
"Germans usually move along riverways, rivers or the Great Lakes," Tolzmann aid. "They always settled around lakes and rivers and streams because it offers rich farm land, travel routes, trade routes (and) commercial routes...A major artery of course was the Ohio River and Mississippi River."