Articles and Reviews
"GAMHOF Honors Siegfried & Roy, " Germerica.net (26 October 2011).
---
GERMERICANA
GAMHOF Honors Siegfried & Roy
World famous entertainers Siegfried & Roy were honored for their contributions to America. "Siegfried Fischbacher and Roy Horn came to America with only their ideas and talents, and created the most visited show in Las Vegas," said William Hetzler, Chairman of the German-American Hall of Fame (GAMHOF), Tuesday at a sold-out banquet in New York.
Siegfried & Roy Honored in New York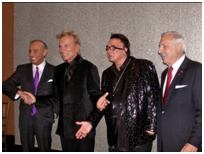 There were exuberant cheers mixed with some emotional tears when the legendary duo entered the reception room on the 35th floor of the Oriental Mandarin Hotel. (Photo: Siegfried and Roy with Bill Hetzler, right)
Financial and corporate leaders, politicians and just plain folks of German heritage turned out to salute the magnificent magicians who retired in 2003 after a white tiger attacked Roy in front of a horrified crowd.
Since then Roy has been confined to a wheelchair and his speech is impaired somewhat, but he did manage to walk into the room on his own which a little support from Siegfried. "We are so proud to be German," he managed to say.
For his part, Siegfried recalled that when he and Roy returned from a trip to Germany some time ago they were asked if they had fun over there. "I was afraid to give them an affirmative response, because they might have told me to go back," he said jokingly.
He said they actually felt good about being welcomed back in America where people are very friendly. Siegfried, 72, was born in the Bavarian town of Rosenheim. Roy's hometown is Nordenham in Oldenburg. He was born in 1944.
Also present were Anne Eisenhower and Linda Ruth Tosetti who received certificates for their famous grandfathers, President Dwight D. Eisenhower and baseball legend George Herman "Babe" Ruth.

Tosetti spoke caringly about her grandfather who grew up in Pigtown, a rough Baltimore neighborhood. But people would stick together, she said, as did many German Americans, and Babe "loved German food like sour beef," meaning sauerbraten.
She congratulated Siegfried & Roy for being inducted into the German American Hall of Fame, and wished them the best.
Munich-born William "Bill" Hetzler, a community leader and for 15 years general chairman of the German-American Steuben Parade Committee of New York came to America in 1956 and subsequently served in the U.S. army in Friedberg near Frankfurt.
"I served in the military when Elvis Presley was a GI in Germany," Hetzler said of Presley who also had German roots.
In 1974, Hetzler purchased a delicatessen that he expanded into a chain of food stores. Currently he operates the Hetzler Holding Company, which manages his real estate investments.
For eight years he was assistant to Republican Governor George Pataki, and New York State and New York City Commissioner for German Affairs.
Hetzler's book, Thank You America, was published in Munich in December 2007.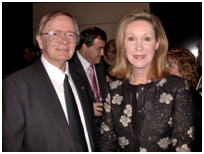 Don Heinrich Tolzmann, the author of many books on German American history, and a member of the GAMHOF board of directors (Photo: Tolzmann with Anne Eisenhower), flew in from Cincinnati to attend the event that also remembered Carl Schurz.
Schurz was another remarkable German American. He served as a Civil War general, and as an advisor to President Abraham Lincoln and Secretary of the Interior under President Rutherford Hays.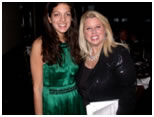 The evening was MC'd by Rita Cosby, a well-known American television journalist on the Fox News network. She is shown here with one of the younger members of the German-American community.
Established in 2004, GAMHOF pays tribute to Americans with German ancestry. It recognizes and celebrates the impact of German immigrants to the United States and their progeny, by highlighting some of the most remarkable German-Americans through a "Hall of Fame."
FROM: Germerica.net (26 October 2011)